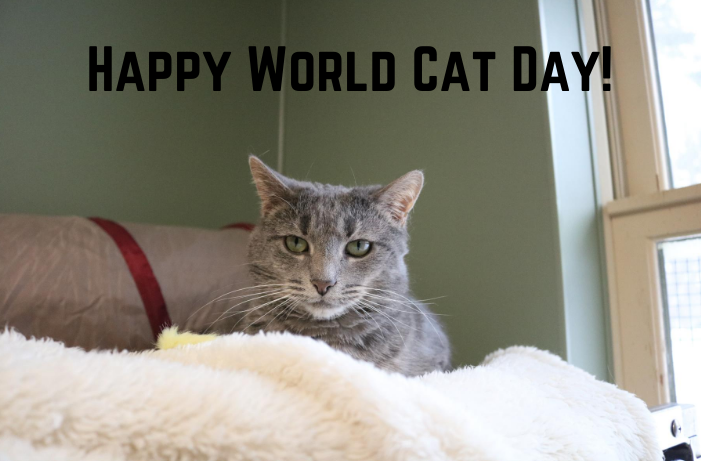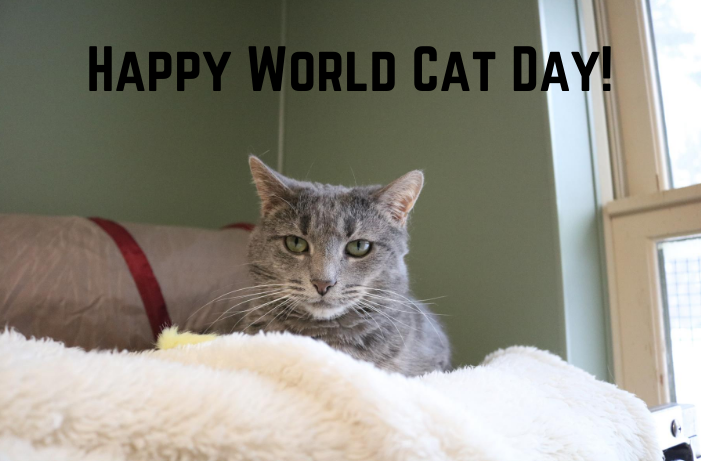 August 8 is World Cat Day! 
Here are some great ways to celebrate with your cat:
Spoil your cat! Get your feline friend a new toy, a new bed, or a new scratching post. 

While your cat might not understand it's for their own good you could also schedule a wellness vet visit for your cat. Catching problems early can help make for the best possible outcome. Keeping their vaccinations up to date is also important.

Spend some extra time with your cat. Maybe they love to be brushed. Maybe they'd love some extra playtime. Take a little extra time to show your cat how much you love them.
If you don't have a cat, and still want to show your love for felines:
If you'd like to change that: adopt! You can find our pets up for adoption here.

Donate
Volunteer

Visit the shelter and spend some time in the cat room. Most of our cats love the extra attention.

From home:

Make durable cat toys

Make scratching posts

Contact the shelter for other volunteering opportunities
Spread the word – help educate people on important pet information. Be sure to do your research. 
The importance of spaying and neutering your pets. It helps with overpopulation and can have health benefits for your pet.

The benefits of keeping cats indoors – we have a great blog post on that here.

Adopting is a great option when looking for a pet. 

Share cats (and dogs) up for adoption

The problems with declawing cats. Did you know it's actually an amputation?
Microchipping can help get cats (and dogs) back home if they are lost. We also have a blog post on that here.