We occasionally get asked if the money goes to a larger organization. The answer is no. Money and items donated to us go to help our animals and community. 
Vet bills
Michigan requires shelters to spay or neuter animals before they are adopted or send them home with a spay/neuter contract. This means we have to pay to get all our animals fixed if they aren't already, and the majority of animals we get are not fixed. Spaying/neutering all of our animals is great because our animals are healthier and not contributing to overpopulation, but it is expensive. 
We are also lucky enough to have enough support to take care of any other medical needs a pet might have. We've had animals come in with broken bones, bad wounds, and a medley of other problems. We've cared for animals who needed amputations, and others who required a lot of intensive care. Copper Country Vet Clinic is kind enough to give us a discount, but vet care is still expensive. We've also worked with University of Madison as well. 
Staff Salary
Some shelters run well with just volunteers, but we've found it is much easier to get people who are consistently able to come in and work if we have a paid staff. It is also great to have people who are trained and experienced to work with the animals. None of us are here for the money, but it enables us to make sure we have the time to be here without having to have another job to pay the bills. We have 6 paid staff members, our manager, assistant manager, and 4 animal caretakers.
Our number one priority is always animal care. We have a morning cat person and a morning dog person who comes in to clean all the kennels, do the dishes, and ensure all the areas with animals are clean. They also administer any needed meds and feed the animals. We also have evening staff who comes in to let the dogs out again and do any cleaning that is needed. Management answers phone messages (please leave a message, and we will call you back), emails, and manages our social media. We also process adoption applications and help members of the community who need to surrender an animal or have a missing pet. 
Food, medicine, vaccines, and other needs
We are so lucky to be sponsored by Science Diet, so we just have to pay for shipping (about $7 per bag) and we are able to keep our animals on a consistent type of food. It is so much better for their tummies to not have to just eat whatever food we get. That being said we sometimes get picky eaters, so dry food donations are still appreciated! It also allows us to give food to members of the community in need. We do still need to buy wet food from time to time for those picky eaters and to help hide medicine or help an animal gain weight. Pill pockets can also be a lifesaver with dogs who don't want to take their meds. (Our picky dogs like all flavors except hickory).
We also need a lot of medicine for our critters. We get a LOT of dogs with Lyme Disease, which thankfully is easily treated with antibiotics in dogs. After surgery animals may need antibiotics and pain medicine. Cats often get upper respiratory infections, which require antibiotics and sometimes other medicine. Some animals get really stressed and need meds to help them calm down. Others are recovering from injuries and need meds to help them heal. Thankfully there are a lot of programs to help reduce the cost of some medications for our shelter critters, but it still can be pretty expensive, especially when we have a lot of animals.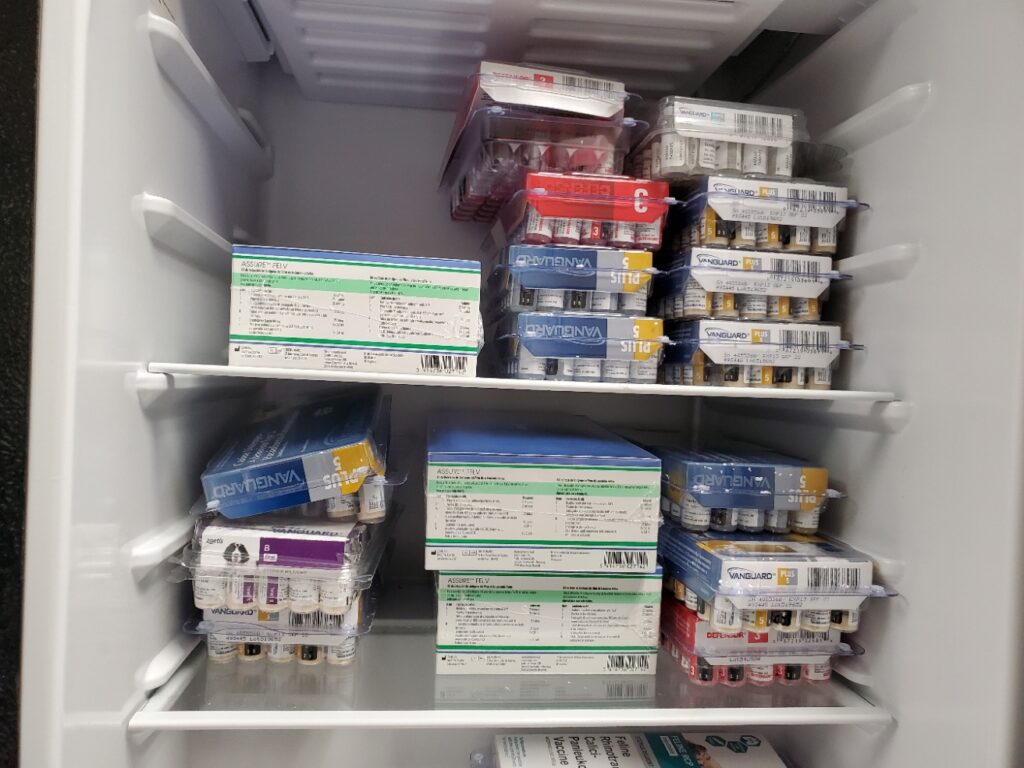 We give all our animals combo vaccines and our cats rabies vaccines. (Dogs have to be given their rabies vaccination by a vet, because it is legally required in Michigan). We also give our animals dewormer and flea and tick treatment. 
Every Saturday we clean all of the litter boxes, so often we have to buy a bunch of cat litter and pellets to make sure we have enough to replace them all. We also need to replace the litter boxes from time to time as they get worn out.
All our animals are also microchipped before going home, so we have to purchase those. 
Vaccinations and some food must be kept refrigerated, and recently one of our minifridges died. We are excited to finally be buying a full size fridge! This will give us enough space to store all our vaccines for the vaccine clinics, and having a real freezer will enable us to do more dog enrichment. Frozen Kongs last a lot longer, and there are lots of fun frozen treats we can make for our critters in the summer.
Miscellaneous Supplies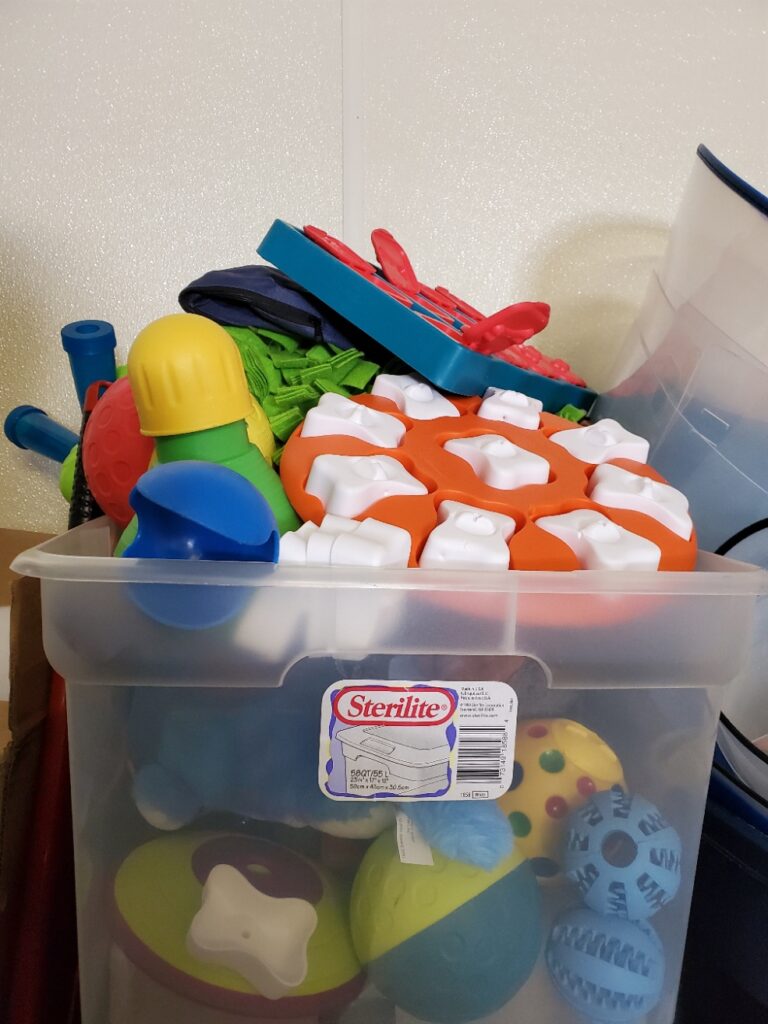 We use a ton of Rescue cleaner. This is what we use to clean and disinfect kennels. We also have some other (pet safe) chemicals we have to buy for the drains and other cleaning. Our community is amazing about dropping off donations of things we need like bleach, but sometimes we don't realize how low we are on something or a particular need pops up, so we have to go out and buy it. There are also those random things we need like snow shovels in the winter, rakes in the fall, etc. We also sometimes need to buy office supplies, and other things like our manager needs a computer, we have a tablet to play music off and use for credit card payments for adoptions and events. Something else we like to buy is things for animal enrichment. We have a lot of slow feeders, which are important in helping to prevent bloat and are also great for the dogs to use their brains. Things like ice trays are great for cats who eat too fast, and it's a fun challenge for the cats to try to get their food and treats. Likimats can also be fun for both the cats and dogs. No matter how hard we try, the shelter is still a higher stress environment, so if there is anything we can do to make our critters a little more comfortable or improve their quality of life in any way, we will. 
Building maintenance
We could go on for days about this one. Our shelter is around 20 years old, so on top of regular maintenance, we have needed to replace and repair some things. 
There are certain legal requirements from the department of agriculture for animal shelters, like having an air exchanger that cycles the air in our dog room and the rest of the building. These are expensive and they require a lot of maintenance. We also had to replace it in the last few years, as our old one was not working like it should. 
We also had to replace our furnace in the last year. We of course want to make sure all our critters stay cozy warm! Speaking of cozy warm, you also may notice sometimes our dogs are sleeping on the concrete floor. Don't worry, we actually have heated floors, so even when we have blanket eaters who can't have blankets, they still stay nice and warm through the winter.
In the past couple years we also had to replace a couple sinks that were getting old and leaky. 
When our building was originally built, the backs of some of our dog kennels were covered, but not fully enclosed. We had a couple expansions built, so all our dog kennels are fully inside. With how bitter cold and snowy our winters can be, we thought it best to make sure our critters were always cozy warm. With one of these expansions we also added on a laundry room. You would not believe how much stuff is required to keep an animal shelter going, so this was incredibly nice to give us more room for storage. As time goes by it was important that our shelter was able to grow with us. We are also planning on another expansion that will hopefully start in 2024 or so. 
In winters passed we have also had some issues with our roof leaking. We had to pay to get someone to remove the ice buildup and ultimately ended up having to replace our roof. Many local businesses are kind enough to give us a discount, but they still need to get paid for their hard work and materials. 
Another occasional cost is having our septic system pumped. We also have to pay for trash removal and plowing in the winter. There are lots of different costs, just to keep things running smoothly and make sure our building is in good shape for our critters. 
As you can tell, there are a lot of expenses that go with keeping an animal shelter going. We receive a small amount of money from the counties (Houghton, Keweenaw, and Baraga) for taking in strays, but the vast majority of our funding is from donations. We aren't a part of a bigger network that gives us money. We rely on our incredible community to support us, and we are so incredibly grateful that we have such great support. We appreciate every donation, no matter how big or small. The fact that someone is willing to give us even a dollar or just wish us luck on getting a critter adopted doesn't go unappreciated. Thank you from the bottom of our hearts for all the love and support from our community.