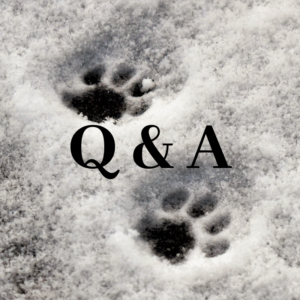 We are so excited to launch our brand new website! We could not do what we do without the amazing support of our community, and we're so happy to have another updated way to connect with you. What better way to celebrate that connection with a Q & A! We took your questions from Facebook and Instagram and compiled a list of them here and we added some other frequently asked questions.
What sorts of animals do you adopt out from the shelter?
We mostly adopt out cats and dogs. Occasionally we will get a bird, bunny, or other small animal, but for the most part we have just cats and dogs.
How do you receive funding?
We get a small amount of money from the counties for taking in strays, but we are funded almost exclusively on donations. Our wonderful community's continued support is what keeps us running!
What are some of the strangest animals you have gotten in?
As far as strays go we have gotten a lamb, a couple goats, and a rooster. As far as surrenders go we have gotten a couple pot bellied pigs and a tarantula.
What is the adoption process?
Everyone is required to fill out an adoption application. This typically takes 1-2 days to process. You are welcome to submit an application before visiting the shelter or after you find an animal you like. We do not put any animals on hold before an adoption application has been filled out. Our adoption fees are:
Adult dogs: $90
Puppies: $100
Adult cats: $60
Kittens: $75
All our pets are spayed or neutered, vaccinated, and microchipped. We also send you home with a sample sized bag of the food they are eating here at the shelter.
If you don't find the right new friend, we keep your application on file for a year.
If multiple people apply for an animal is it first come first serve?
It is only first come first serve if the first person is a great home for the animal. Our main goal is to see all our animals end up in the best home for them. If someone applied for a pet and someone else applied who would be a better fit, then the pet goes home with the person who could provide the best home for them. That doesn't mean you aren't a great pet owner. It just means that particular animal may have personality traits that would work out best in a different environment.
What is the best way to find out about pets up for adoption? Why are some animals on social media and not the website?
The best way to find out about pets up for adoption is to come to the shelter. Our shelter management system takes time to update our website, so that is why sometimes you will see animals on our social media who are not on the website yet. (That's also why sometimes pets who have been adopted take a little time to disappear from our website). Some animals come in and are seen and put on hold with an application the same day. If that happens, we don't bother putting them on our website.
What do you (the staff) wish people would know about your shelter relating to giving up an animal, coming in to see the animals, and adopting?
When it comes to giving up an animal the biggest thing we want people to know is that we aren't going to be mean to you if you have to surrender an animal. We are happy you chose to bring the animal to us where they will be well taken care of as opposed to abandoning them or having them end up in a less than ideal home. Also when giving us an animal please be honest. We use that information to try to find the best home possible for the pet. It's okay if they don't like other animals or kids. Then we know not to put them in a home with them. We also never charge a surrender fee.
Please listen to our directions when you come to see the animals. We don't lie to you. If we tell you something about an animal, it's because we know it to be true. Please don't laugh at us when we tell you an animal doesn't like other animals, and please do not allow them around other animals! Also when we give you instructions, especially when we tell you not to do something, please listen. We tell you to do things (or not to) for your, that animal, the other animals, and our safety.
When you're looking to adopt the only way we can best match you with an animal is if you are honest with us and with yourself about what you want and are able to handle. We won't think any less of you if you aren't able to adopt an animal with special needs or behavioral problems. We do get sad when you adopt an animal you are unable to handle and have to bring them back. It is so much harder on them to go into a home then come back to the shelter as opposed to just staying at the shelter.
Why might a dog not be able to go for a walk or spend time in the yard?
There a lot of reasons why a dog might not be able to come out and visit. They might be in training. Some dogs come in with behavioral issues, and the staff is working on those with them. Other dogs have just had surgery, typically spay or neuter, so they need time to rest. Older dogs sometimes have arthritis and are only able to go on a couple walks a day because they get sore. Some dogs don't really care to go for walks or in the winter they simply might not like to be out in the snow. It's no fun to try to take a dog for a walk when they just put on the brakes because they want to go back inside. New dogs might not be fully vaccinated or they just might be too scared to come out for visits yet. Nervous dogs might not be comfortable with anyone but the staff quite yet, and we don't want to stress them out or put the dog walker in a position where they could get bit. The dog walker also might not be appropriate for the dog. We don't want to send a dog who does not like children out with a family, thus putting the children at risk and stressing out the dog.
Why might I not be allowed to let a cat out of their kennel?/Why are some cats kenneled?
New cats can't come out often because we don't know how they are with other cats. Vaccines also take a little time to fully work, so sometimes they just need a little time for those to kick in too. Cats who have just had surgery, typically spay or neuter, really need time to rest. Even if they are up and moving around, they shouldn't  be too active right away. This also means they might not be up to too many pets through the kennel either. We also get many cats who do not like other cats. Even if they seem to be nice to them through the bars, sometimes when they are out they will cause big fights. It can be extremely dangerous to let these cats out of their kennels. Other cats can get hurt, you could get hurt, and the poor staff member who ultimately has to catch them has a very high chance of getting hurt. Some cats also do not like people or need time to get used to people. Some cats are also very shy, and when they come out of their kennel they get so scared that they just hide. They don't even come out to eat. We don't like to see any of our cats in that kind of distress, so it is better for them to be in a kennel where they feel safe and secure.
The last thing we want to see is anyone getting hurt. For your and the cats' safety it is always for the best to ask a staff member before opening a cat kennel, even if there isn't a sign.
Do you ever foster animals? What should I do if I am interested in fostering?
We don't often foster animals. If the animal is not at the shelter, it is really hard to find them a home. People are more likely to want to adopt animals that are at the shelter who they can see right now. The few instances when we do foster animals are:
Injured animals who need a lot of extra care
Pregnant/new moms
Abandoned kittens/puppies who need to be bottle fed or are just too young to be adopted out or at the shelter.
If you are interested in fostering please contact the shelter. We can add you to our foster list.
If I am interested in a particular sort of animal or breed, is there a way I can sign up and be notified if that type of animal comes in?
Typically we do not do any sort of waiting list. We get so many requests it is difficult to keep track of it. Often in the past when we have tried to keep a list, we also end up with a lot of people who are no longer interested or found a pet elsewhere, so it ends up being a wild goose chase. Also sometimes an animal of that type/breed will come in but, it will not be compatible with the person who was interested, e.g. a person with a big family wants a shepherd and we get one in, but that dog does not like children. It's much easier to have people check back at the shelter regularly. You never know, maybe you will fall in love with a different breed.
What goes into the intake of a new animal?
Often when animals come in they are very scared, so if they seem upset we will typically give them some time to relax. One of the first things we do with strays is scan them for a microchip. If they aren't chipped or the owner is unable to be contacted we are required to hold stray cats and dogs for a stray hold. Once the stray hold is up (or as soon as possible for owner surrenders) we will get them in to get fixed if they are not already. When they go to the vet to get fixed they also get a checkup. All of our cats and dogs also get vaccinated and dewormed.
Some things are more on an as needed basis with incoming animals. If they come in with fleas we will bathe them to get rid of all the fleas. If they are injured we get them into the vet ASAP for treatment.
Why do some animals not have beds/blankets?
Some of our cats drag any blankets or beds they get into their litter box, resulting in a large mess. Their kennel stays much cleaner when they don't have bedding.
Some of our dogs will shred their bedding or chew up beds. Some also don't care for beds or are even scared of them. Our floors are heated though, so they keep plenty warm, even in the winter.
Do you have a vet on staff?
No, we do not. We use Copper Country Veterinary Clinic and Dr. Kathe McMullan for shelter animal vet care.
Do you assist with vet bills or euthanasia?
No, we are not able to help with vet bills or euthanasia. We run on donations, and we do not have the funds to care for our animals as well as the animals of other people. We do however offer a low cost vaccination clinic twice per year (typically in May and October) and when funds are available we offer assistance with spay and neuter.
If someone is unable to adopt a cat or dog but would just like to spend some time with a cat or dog, is that possible?
Absolutely! You are welcome to come in when we are open and spend some time in the cat room, take a dog for a walk, or spend some time with a dog in the yard. You just need to ask a staff member if you would like to see a dog or cat out of their kennel.
What can people who are unable to make financial contributions able to do to help?
You certainly do not have to spend money to make a difference at CCHS! Donating your time is also very helpful! During our open hours you are welcome to hang out in the cat room and socialize cats, walk dogs, or brush dogs/cats. Sometimes we also need help bathing cats/dogs, cleaning, snow shoveling, yard work, etc. Extra help is also needed at events. We can typically use some help at the Bash, vaccination clinics, and other events. Every month we are also able to collect receipts at Econo Foods  for one day, and we often need people to cover shifts there. Speaking of Econo Foods receipts, if you shop there you can give us your receipts. We get 1% of the money from all the receipts we turn in. If you shop on Amazon you can use Amazon Smile and a percentage of your purchase will come to use at no charge to you.
What sort of opportunities are there for groups to help out?
There are a lot of different opportunities available for groups large and small! When we are open you can come walk dogs and play with cats. (It is always appreciated if you let us know ahead of time if you are bringing a large group). We also have projects we sometimes need help with too like: raking leaves in the fall and various other yard work, returning cans/bottles, extra cleaning before the Bash, etc. We also have a list of ideas for fundraisers if your group is interested in something like that. Donation drives are also super helpful, though it is a good idea to contact the shelter ahead of time to check on what we might be in need of. Making toys, scratching posts, and other things for the shelter animals is also another fun group activity. Contact the shelter if your group is interested in helping out CCHS.