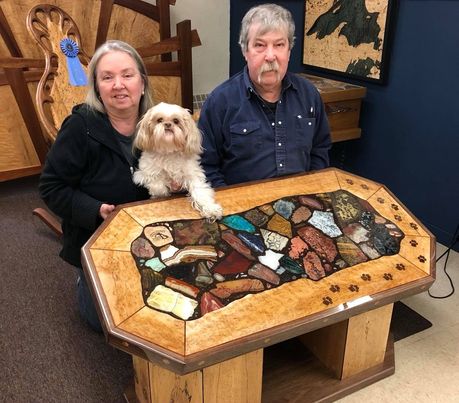 This beautiful coffee table could be yours! Dave and Diana Stimac (owners of Nature's Way Woodworking) have made and donated 14 incredible bird's eye maple and gem coffee tables to CCHS over the past 14 years. They have helped us raise over $130,000! Words cannot express our deep appreciation for their kindness and generosity to help animals at CCHS.
Raffle tickets can be purchased online using the form below (we will mail you the ticket stubs), at Nature's Way Woodworking Gallery and Gift Shop in Alberta (12 miles south of L'Anse) or at the Hilltop Restaurant in L'Anse. Tickets are $5.00 each or three for $10.00.
You can also see all of the other amazing hand crafted wood furniture and unique gifts, plus gems, minerals, copper, fordite, yooper-lite…too many to list…at Dave's shop!
The drawing will be held on December 5, 2021 and you need not be present to win. The winner is responsible for taxes, pick up or delivery. Purchase of raffle tickets is not tax deductible. Must be 18 year or older to enter and void where prohibited.
Thank you so much for your support. Let's make the 14th coffee table raffle the best yet!