Poorly Drawn Pets Holiday Edition
November 1 @ 8:00 am

-

November 14 @ 10:00 pm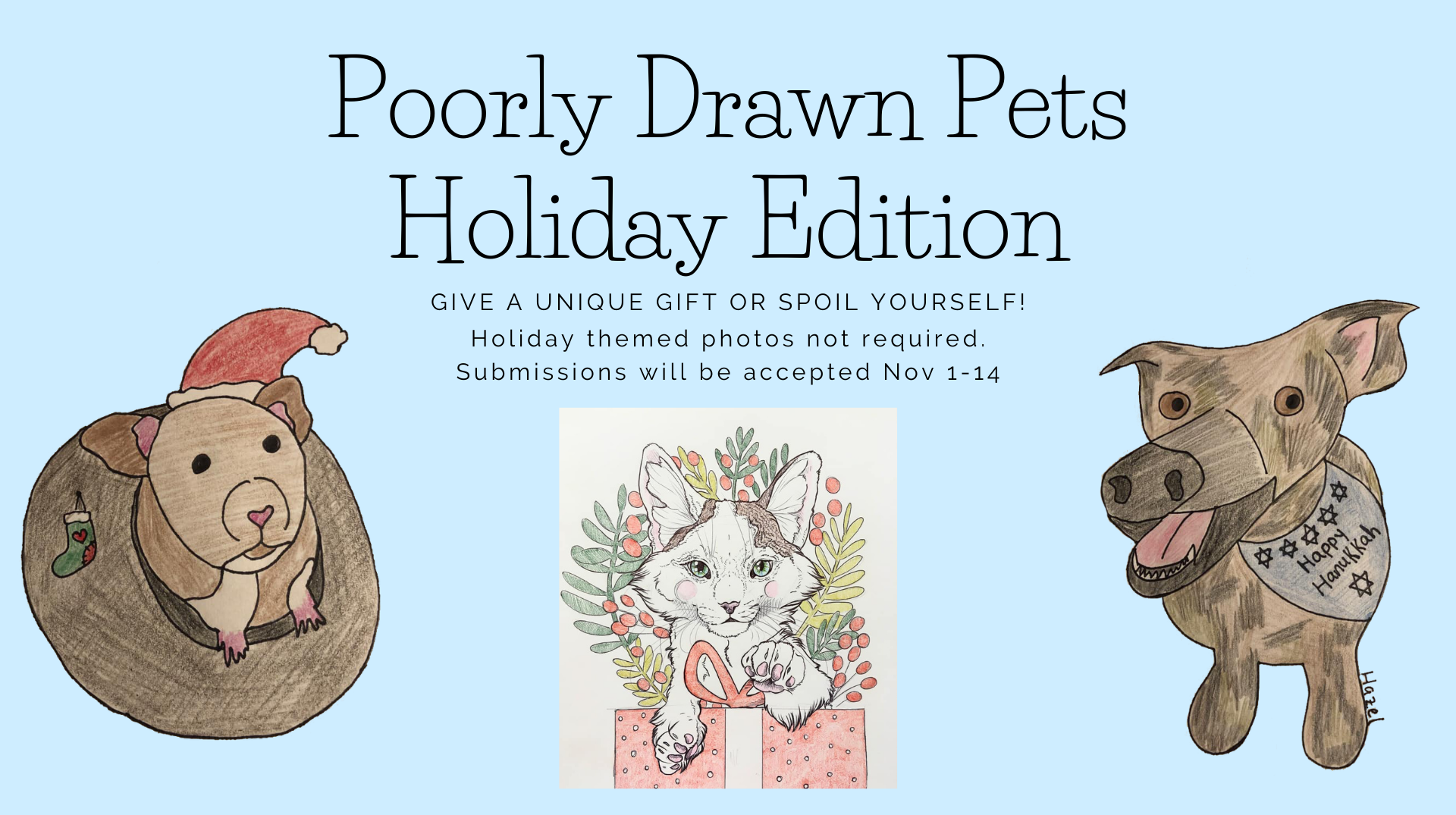 Poorly Drawn Pets is back just in time for the holidays. These photos make great gifts for friends, family, or a good excuse to spoil yourself.  CCHS staff and volunteers are taking donations to POORLY draw your pets. Make a minimum donation of $20 per photo and one of us will attempt to draw your pets. You may get a gorgeous photo made by a real artist, but there is a really good chance you will get a sketch on the level of stick figures. We are all really great at taking care of animals, but our drawing skills… Well take a look at some of our examples and you will see what we mean. This fundraiser is meant to be fun and silly, not a guaranteed work of art.  We are also offering the option to have the photos shipped to you! Just please clarify if you would like any sent to other people as gifts. We're happy to ship to multiple addresses. 
ANY type of pet is fine! We are just as bad at drawing birds and rabbits as we are at drawing cats and dogs.

Scroll down and fill out the form below to enter. Payment ($20 per photo) and photo submissions will NOT be accepted on Facebook or anywhere else. *NOTE: submissions will be accepted November 1-14. Form will appear then. 

Please NO people. If there are people in the photo that's fine, but we will not be drawing them, only the pets. 

Your "art" could come in the form of a painting, pencil drawing, crayon, digital or whatever the "artist" decides. Part of the fun is not knowing what you will get!

Seriously most of us are TERRIBLE artists! Be prepared for some bad art, and please be a good sport.

Costumes and other fun stuff are totally okay as long as your pet was not harmed in the making of the photo. 

Better quality photos are preferred, but let's be honest. We are largely terrible artists, so it might not make much of a difference. 

If you are buying a photo as a gift, please make sure to note that in the form below. We are happy to send photos to multiple addresses as long as we know which ones to send where.
* Note this was NOT an original idea by CCHS staff/volunteers. The Baltimore Animal Rescue and Care Shelter came up with the original idea. 
**Timeline on portraits will depend on how many photos are submitted. We will do our best to make our terrible art quickly.
Photos will be accepted November 1-14. Form will appear then. Please wait for that time to pay and submit photos. 
Rebecca and a volunteer might get another one tattooed on them in an additional fundraiser after this event.